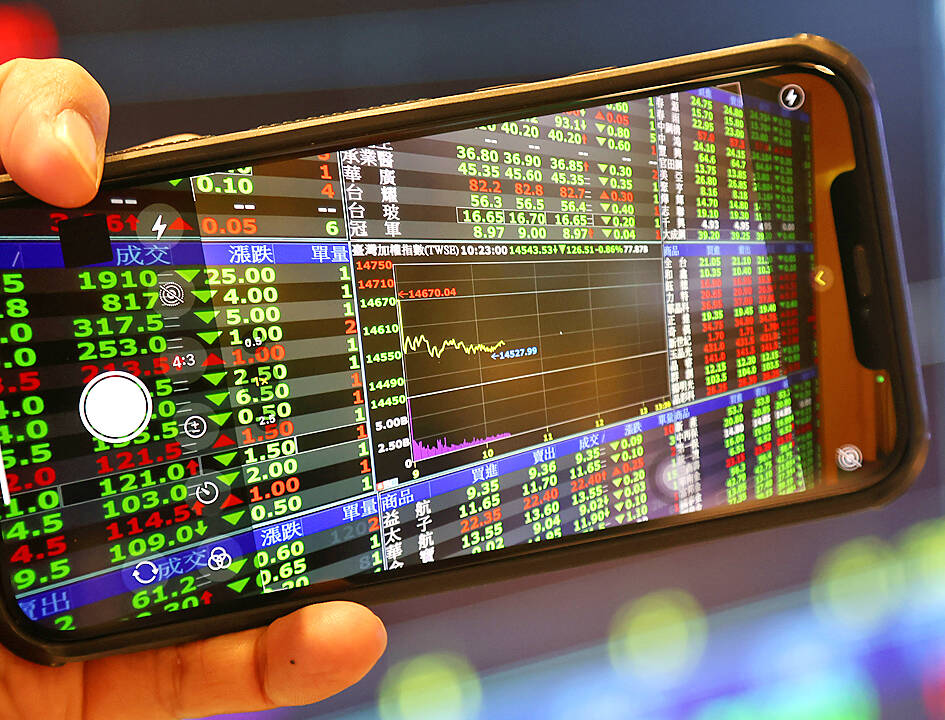 Financial companies are shedding stocks and flocking to bonds
INCREASED YIELDS:


The bond rush was driven by expectations of further rate hikes by the Fed and a global rout in stock markets, a government agency said.

During the second quarter of this year, the country's manufacturers invested NT$539.7 billion ($17.24 billion) in fixed assets, setting a record for the quarter, the Ministry of Economic Affairs said Monday the week last.

Investment rose 25.8 percent from a year earlier and 11.6 percent from the previous quarter, mainly driven by the expansion of production by semiconductor companies, the ministry said.

Fixed assets of manufacturers include machinery and other production equipment, plant and transportation equipment, but exclude purchases of land.

The country's major semiconductor companies invested funds in capital expenditures from April to June to maintain their lead in high-end processes and meet demand for emerging technologies, such as 5G applications, high-end computing devices performance and automotive electronics, the ministry said.

Memory chip and printed circuit board vendors also increased capital investment during the period, he added.

The electronic components sector spent NT$387.3 billion on fixed assets, up 35.9 percent annually and 9.1 percent quarterly, the ministry said.

Their spending accounted for 71.8% of all capital investment in the manufacturing sector, he added.

The chemical materials sector followed with investments of NT$28.1 billion, or 5.2% of total manufacturers' investment. The figure rose 8.3 percent from a year earlier and 41.1 percent from the previous quarter as semiconductor makers placed large orders, the ministry said.

Many petrochemical companies have also invested heavily in equipment to manufacture value-added products, he added.

The computer and optoelectronics industry took third place with investment of NT$14.1 billion, up 1.7% from a year earlier and 16.3% from the previous quarter, thanks to a strong demand for servers and web communication devices.

The country's manufacturing sector recorded a turnover of NT$8.72 trillion, up 10.4% from a year earlier and 4.3% from the previous quarter, and the highest level higher in the second quarter, thanks to strong global demand for technology devices and rising commodity prices. said the ministry.

The figure includes revenue generated from overseas production facilities.

Capital investment is expected to continue to grow as semiconductor companies ramp up production and offshore wind companies develop new projects, the ministry said.

However, geopolitical tensions, rising inflation and inventory adjustments could undermine growth, he said.
Comments will be moderated. Keep comments relevant to the article. Remarks containing abusive and obscene language, personal attacks of any kind or promotion will be removed and the user banned. The final decision will be at the discretion of the Taipei Times.