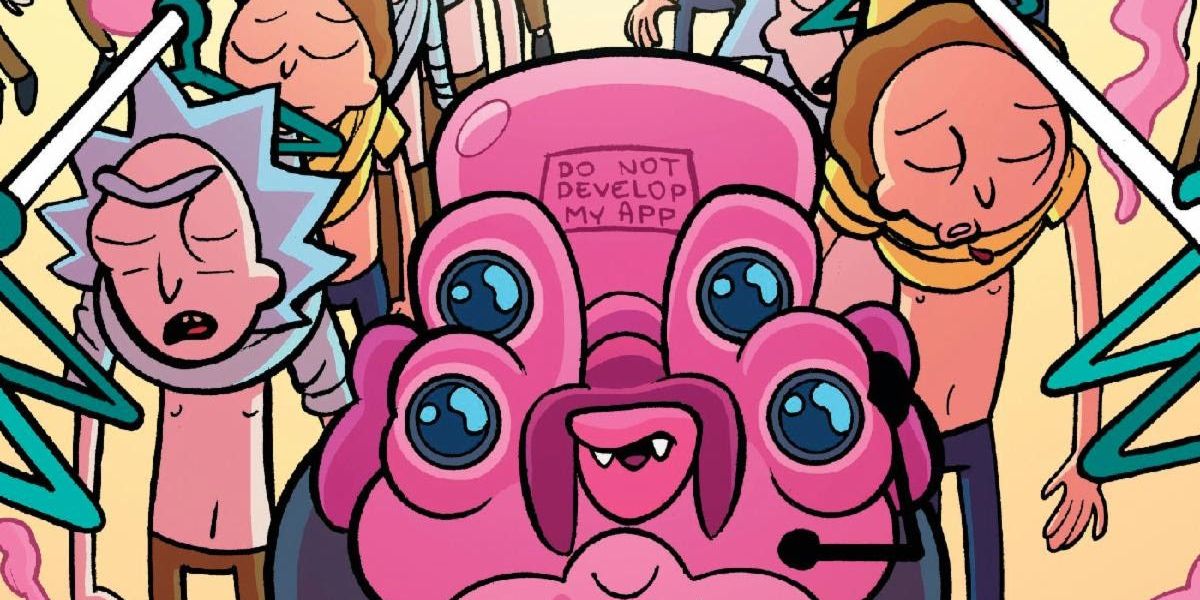 Rick and Morty 'Save Christmas' in Corporate Assets Finale (Preview)
Oni Press previews the fourth and final issue of Rick and Morty: Corporate Assets by James Asmus and Jarrett Williams
Oni Press has provided CBR with an official preview of the fourth and final issue of Rick and Morty: Company Assetswhich is due out in comic book stores on Wednesday, March 2.
Rick and Morty: Company Assets #4 comes from writer James Asmus, artist Jarrett Williams, colorist Jeremy Lawson, and Letterer Crane!. "Glootie triumphant! Is it possible? Have the corporate lords extracted all the interesting things from the Smith family? Find out in this action-packed finale!" reads the issue's official synopsis. "Rick and Morty are reunited with the family, but is it too late to stop the evil machinations of Glootie and his Glom-Con cohorts?"
RELATED: Shenmue Reveals Trailer, Crunchyroll Cast & Adult Swim's Animated Adaptation
Company assets is in four parts rick and morty limited series launched by Oni Press in November. In it, Morty "foolishly accepts all the legal terms of a new face-altering gif app," signing his life to "an unprecedented company that immediately takes control of him for its own ends." Morty then bungles Rick's attempts to save him, with the Company stealing Rick's portal gun and stranding the duo "in an uncharted dimension – leaving them free to strip down every aspect of Rick's inventions and the lives of the Smith family at evil and capitalist purposes! "
The preview for issue #4 opens in the middle of a fictional Christmas special, during which Rick saves Christmas by rescuing Santa Claus and killing his captor. The special plays well with Jerry, who appears to be the only member of its test audience. However, things get especially meta when Summer discovers that Rick and Morty are trapped in a digital comic.
RELATED: Adult Swim Renews Smiling Friends, Birdgirl For Season 2
Written by James Asmus and illustrated by Jarrett Williams with colors by Jeremy Lawson and crank lettering!, Rick and Morty: Company Assets #4 goes on sale March 2 through Oni Press.
Source: Oni Press
Batman's new creative team, Zdarsky and Jiménez, will present the Hero's Own Doomsday
About the Author