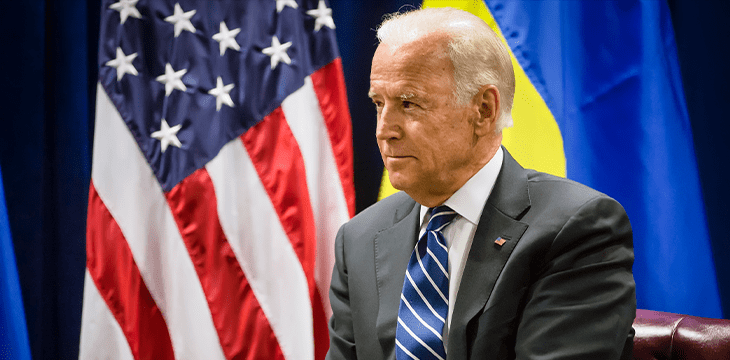 US President Joe Biden signs executive order on digital assets
US President Joe Biden has signed an executive order directing federal agencies to collaborate on examining the risks and benefits of digital assets, according to a statement from the White House.
"The rise of digital assets creates an opportunity to strengthen American leadership in the global financial system and at the technology frontier, but also has substantial implications for consumer protection, financial stability, national security, and climate risk" , the statement said.
"The United States must maintain its technology leadership in this rapidly growing space, supporting innovation while mitigating risks to consumers, businesses, the broader financial system, and the climate."
Specifically, the order outlines the Biden government's approach to "addressing the risks and exploiting the potential benefits of digital assets and their underlying technology." It calls for a series of measures broken down into seven main objectives:
Protect American consumers, investors, and businesses by directing the Treasury to develop policy recommendations addressing the implications of the sector;
Protect U.S. and global financial stability and mitigate systemic risk by encouraging the Financial Stability Oversight Board to identify and mitigate economy-wide risks posed by digital assets
Mitigate illicit finance and national security risks posed by the use of digital assets by directing "an unprecedented focus on coordinated access to all relevant U.S. government agencies"
Promote U.S. leadership in technology and economic competitiveness by directing the Department of Commerce to establish a framework to drive competitiveness and leadership in the sector;
Promote equitable access to safe and affordable financial services;
Support technological advances and ensure the responsible development and use of digital assets by directing the U.S. government to take steps to investigate and support technological advances in the ecosystem; and
Explore a US Central Bank (CBDC) Digital Currency
The order is said to have been in the works since last year, which marked an escalation in government rhetoric regarding regulation and enforcement in the digital asset industry. The order's impending assent was revealed earlier this week, when the US Treasury mistakenly issued a premature statement praising the decision as "historic".
It also comes after a year of increasing regulatory and enforcement focus on the digital asset industry, including key appointments by Biden indicating a more direct approach to enshrining digital assets in law. This has included appointing BTC critic Saule Omarova as head of the Office of the Comptroller (OCC). Additionally, lawmakers in the U.S. and beyond have tightened regulations, including a proposal by U.S. Democrats to bring digital assets into the existing fictitious sale rule and the recent creation of a regulator and regulator. digital asset licensing in Dubai, also announced today.
Although Biden's order does not address recent sanctions imposed on Russia for its invasion of Ukraine, it was signed amid growing concerns that digital assets could be used to circumvent the measures. . Him Das, acting director of FinCEN, said on Monday that they had yet to detect "widespread" circumvention of sanctions, he also urged prompt reporting of suspicious digital asset activity.
New to Bitcoin? Discover CoinGeek bitcoin for beginners section, the ultimate resource guide to learn more about Bitcoin – as originally envisioned by Satoshi Nakamoto – and blockchain.