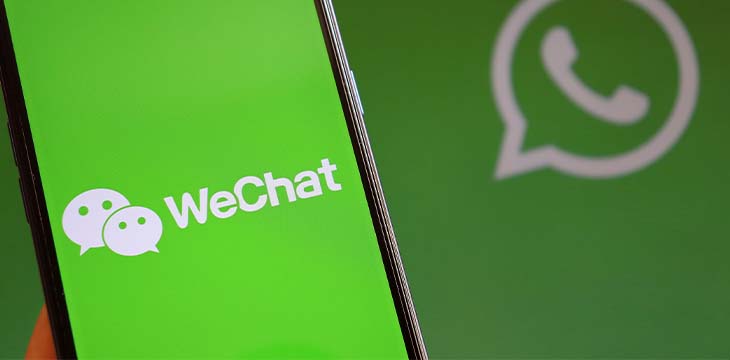 WeChat suspends NFT accounts to 'avoid digital asset speculation'
China's largest messaging app has banned a large number of accounts associated with non-fungible tokens (NFTs). WeChat clarified that NFTs are not entirely banned, but they do not allow the secondary sale of digital collectibles because they are speculative in nature.
With 1.2 billion users, the Tencent-owned messaging platform is by far the biggest in China and one of the biggest in the world as well. But as a local financial outlet revealed, WeChat is not a big fan of NFTs, which have taken the world by storm, with this nascent market reaching $41 billion last year and almost matching the market for fine arts.
Sina reported that WeChat suspended dozens of accounts that heavily promoted non-fungible tokens. According to Colin Wu, a Chinese digital currency journalist, the company requires such accounts to "have a blockchain company record provided by the Chinese government and prohibit secondary transactions."
WeChat, which has 1.2 billion users, said it banned NFT accounts in large numbers, required them to have a blockchain company record provided by the Chinese government, and banned secondary transactions. https://t.co/sr828ipZaV

– Wu Blockchain (@WuBlockchain) March 30, 2022
China currently has no regulations on NFTs. However, it banned digital currencies in their entirety as well as ICOs and block reward mining. This leaves Chinese NFT fans with the only option of purchasing digital collectibles via yuan. The government also has some restrictions on the blockchain networks on which NFTs can be minted, favoring those that the government may have had a strong influence on developing.
On Weibo, the Chinese version of Twitter which has nearly 600 million users, WeChat clarified its position, saying it had recently "normalized and rectified public accounts and small programs for speculation and secondary sale of digital collections".
He added that this was done "in accordance with relevant national regulations, in order to prevent the risk of speculation in virtual currency transactions".
Tencent, the parent company, declined to answer questions from the media about the suspensions. The gaming, entertainment and social media company ventured into NFTs with an initiative it led alongside Ant Group, becoming the world's first UN-endorsed standards project on tokens digital.
Some of the suspended accounts, including one named Spirit Leap, told the South China Morning Post they were suspended after being reported by other accounts. On WeChat, these accounts are no longer available in search results. Existing subscribers accessing it are greeted with a line that reads, "This account has no legal permit or license to post, broadcast, or engage in any related commercial activities."
As WeChat clarified, public accounts can only display the initial sale of a digital collectible. Additionally, operators must provide proof of cooperation "with a blockchain company that has been recognized by the Cyberspace Administration of China."
Watch: CoinGeek New York Presentation, BSV Blockchain in China
New to Bitcoin? Discover CoinGeek bitcoin for beginners section, the ultimate resource guide to learn about bitcoin – as originally envisioned by Satoshi Nakamoto – and blockchain.